Something that we pride ourselves on is our white-label review platform, which appears on the review screen customers will see when they leave you a review. Did you know that a customer is more likely to leave you a review if your review screen is white-labelled?
This feature is extremely useful and beneficial in such a simple way – here's how!
Case Study – Timpson Group
One of our clients that proves the benefits of using a white-label review platform is Timpson Group.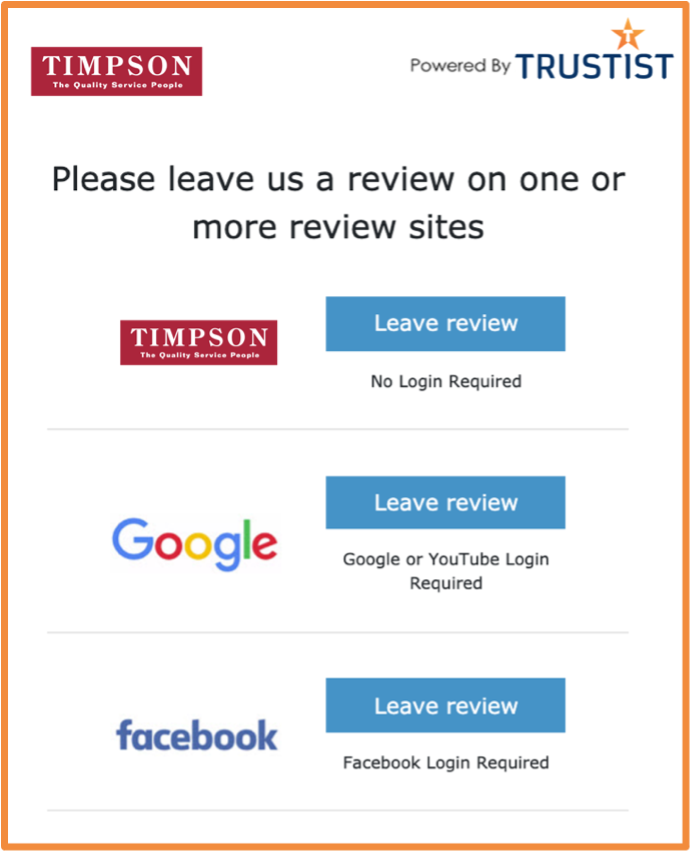 Timpson, like all of our clients, use our white-label review feature to collect their feedback and we couldn't help but notice how this has impacted the reviews they've collected.
Having the option for customers to leave an own-brand review led to over 16,000 white-labelled reviews being collected since Timpson Group began working with us.
You may have not heard of the terms 'Open Platform' and 'Closed Platform,' so to briefly explain, an open platform like Trustpilot means that anyone can leave a review of your business which increases the likelihood of negative or false reviews being left. Our closed platform not only improves the chances of receiving positive feedback (as you know that the only people who can leave a review are genuinely clients who have used your services), but can also help you to collect even more!
To learn more about how we've helped Timpson, check out our full case study here.
What we can do to Help
As previously mentioned, Trustist is a closed platform so only genuine customers can leave you a review. We also supply you with your own review collection screen to make it that much easier and professional for your clients.
On your unique review collection screen provided within your Trustist account, all of your review sources including Google, Facebook and Yell will appear, allowing customers to decide where they would like to leave their feedback.
We also provide you with your own white-label review source, which is a Trustist review source in disguise! This has proven in the past to be very popular, as clients are more likely to leave a review directly for the business rather than selecting a third party. Unlike Google and Facebook, customers won't have to login to anything when they leave their feedback through us, making it even more likely that they'll say something due to a simple process!